---

Watch TV live channels on Apple TV, iPhone & iPad, Mac!
The finessTV Stand-Alone solution allows it to watch live channels of a Sat IP TV receiver on Mac.
finessTV Server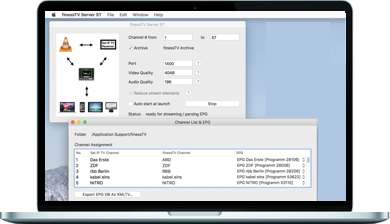 The server streams the live channel of a TV receiver or archived movies to clients on Apple TV, iPhone & iPad, Mac.
Clients can easily and privately connect to the server from outside the local WiFi and friends can be invited to share television and archived movies.
After the successful connection, the client will show the available channels in a list and the current live stream in a player view.
If EPG data is available, an info will be shown with the time start / end of the program.
The server for Mac can be downloaded on the
download page
, the
stand-alone
and
clients for Mac
,
Apple TV and iPhone & iPad
are available in the Apple App Store.
finessTV is distributed by
.
Apple, AppleTV, iPad, iPhone, Mac are trademarks of Apple Inc., registered in the USA and other countries. EyeTV and the EyeTV app symbol is a trademark of Geniatech. Fritz!Box is a trademark of AVM Computersysteme Vertriebs GmbH. VLC and the VLC app symbol is a trademark of the VideoLAN non-profit organization. All other trademarks are property of the respective entitled companies.
Some of the media shown are protected by copyright. Their representation is for demonstration purposes only.